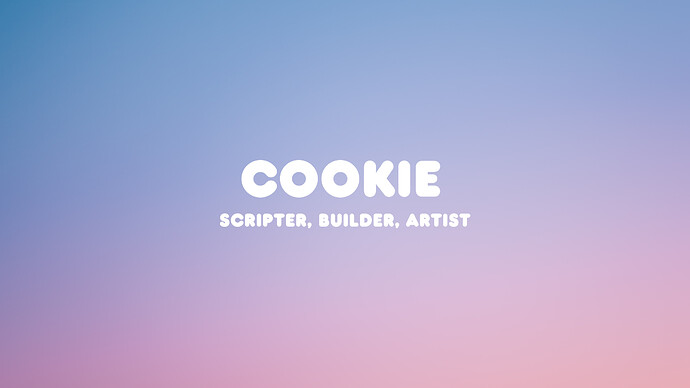 About Me
Hi! I'm cookie & welcome to my portfolio. I am a Roblox developer with 2+ years of experience in studio & around a year of experience with backend coding.
Information
Programs I use:
I am familiar with most apps in the adobe suite, including Premier Pro, Adobe Audition, Premiere Pro and more. I am also an active & effective user of visual studio code.
Why you should hire me:
As well as being a well-established developer I am also a great team member and will greatly benefit your team. I have a good background in game development and marketing. I know how to create a game that will satisfy all your needs.
Showcase
Backend Developing
Scripting

I know how to do most scripting, I'm not sure what I should put here however I can make BAE 2.0 custom commands etc if you need anything I can normally most likely make it for you.

Example of a teleport system that teleports you to a random place in the auditorium.

Custom commands:

A view command:

A basic map design:
Building

View some of my examples here, I specialize in low poly & I can do realistic and simplistic realistic:

Cookie Tech Event Centre - Roblox

Happy Hotels & Resorts™ - Roblox
UI/UX

UI is not my strongest skills but here are some examples of UI I made the other day:

Some UI for a ranking centre/ application centre.
Contact
Discord: noahhaf
Forums: @cookie