Earlier this year roblox introduced the Experience Question tool, a system designed to automatically adjust the playability of your experience (game) based on the information you provide.
Roblox is introducing a feature called "Age recommendation preview":
Age Recommendation is now in beta and will allow you to preview the recommended age group for your experience, based on its unique content. Note that this preview is only visible to you at this time.
The beta release currently includes three age recommendations ("All-Ages," "9+," and "13+"). As we expand our policies and products, we will potentially support more content labels (i.e. descriptors) and age recommendations in order to more accurately classify the content of your experience.
In the coming months, Age Recommendation will become visible to all users, and will be added to our parental controls to help parents more easily customize what type of content their child can discover and access. We will share more information around this as we get closer to the public release of Experience Guidelines later this year.
To generate guidelines roblox invites any game with 100,000 visits to take the questionnaire and give roblox feedback.
---
Preview: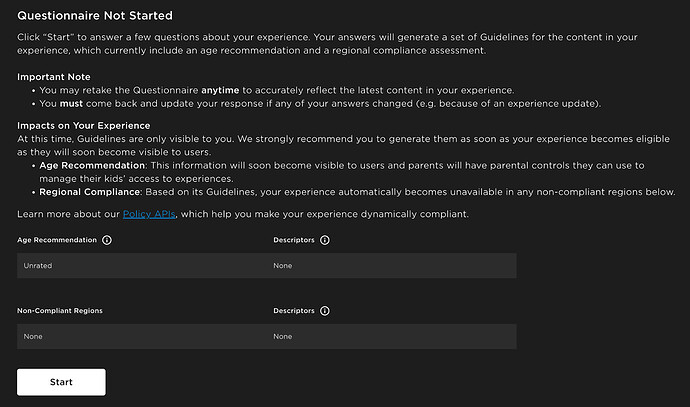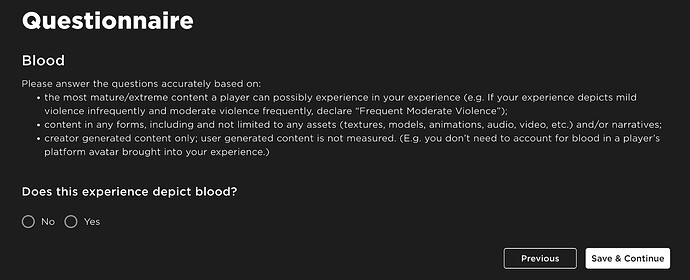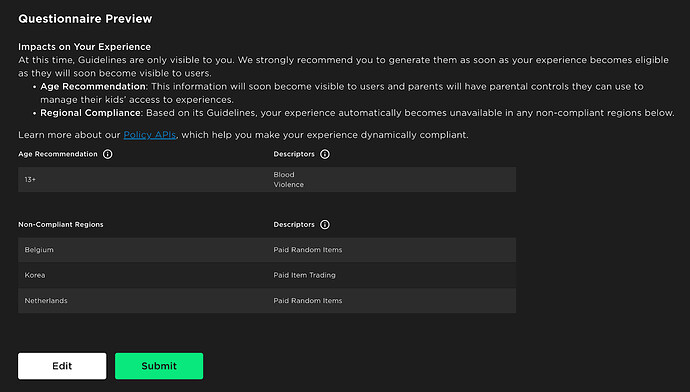 ---
What do you think of this feature?
I personally think roblox is adding this feature to relax the minds of parents so that they can allow their children to play more games, however I can see this feature getting abused & I certainly wouldn't reccommend parents to go of this age rating.
Does this mean that our games won't be recommended if they don't reach the main demographic of roblox users?
How will this be affecting our games popularity?