Our vision for analytics is to empower every creator to take action to grow their experience. Today, we're launching two new updates that push us towards that goal:
Similar experience benchmarks
Analytics access for all 10+ daily active user experiences
Roblox has announced they're now seriously improving their analytics.
In October Roblox announced that they're upgrading the analytics page, right now the analytics page is quite plain and I believe this will be a lot of help.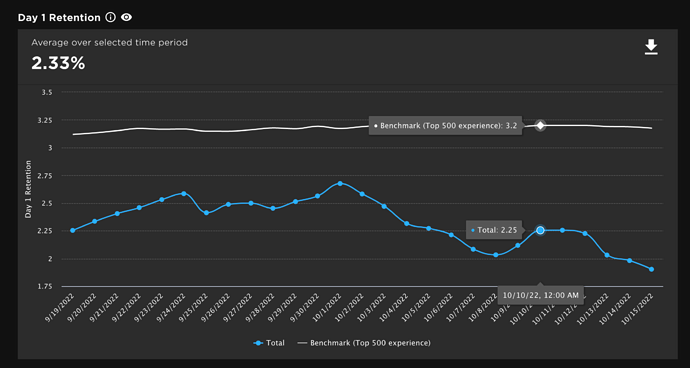 When you visit an analytics page, you'll now see similar experience benchmarks in the 50th - 90th percentile range for per user metrics.
For example, for day 1 retention, the 50th to 90th percentile range for similar experiences might be 12.4% - 24.1%. This means that:
50% of the similar experiences have a day 1 retention of 12.4% or lower.
10% of similar experiences have a day 1 retention of 24.1% or higher.
Similar experience benchmarks are based on our internal genre data (used in our home and discovery pages) and other metrics. These genres include Obby/Platform, RPG, Fighting, Survival/Horror, and more.
We've also learnt that All experiences with 10+ daily active users over the past 7 days now have analytics access.
If you've got access could you share more with us and what are your opinions on this update?