Hello, I have been working on this project for over a year now on and off perfecting all of the features and I Present to you my modified admin system. (unnamed till release)
Now let's go over some of the features.
-Less Boatage (BAE 2.0 has extremely bloating code so I modified it a bit and it seems to work better)
-New Frames - Local Music player, Settings UI (more to come)
-A better custom commands system (in the works as we speak but this will clean up the custom commands and make it easier to use while also cleaning up the process)
-New commands - New commands such as Settings, Local music, sticky message, Temp ban, slock excusions (I am open to new commands so please tell me some)
-Better UI (now I have been working on these features for a while but this UI is about 1 year old the UI is the main reason I picked this project back up)
-Anti-exploit integration - now obviously this is an optional feature, but it will contain mostly basic stuff speed, jump, fly etc.
There are more features to come I had only just picked this project up 2 months ago. If you guys have any suggestions for the UI, please let me know I will try to improve it as much as possible it's not that good considering its 1-year-old I will be revamping it soon though.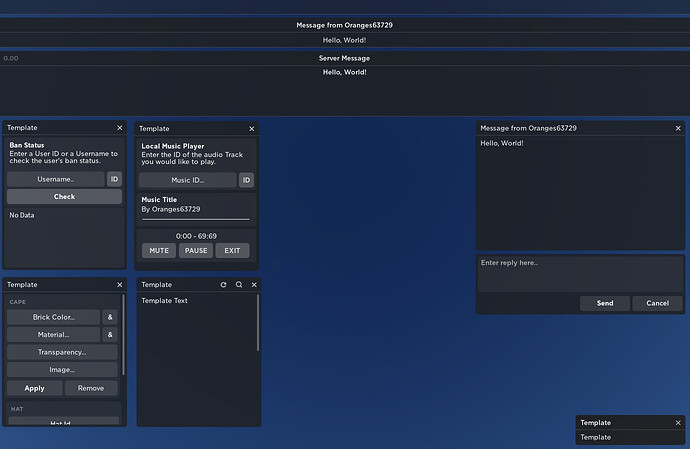 My DMS are open if you have any questions.