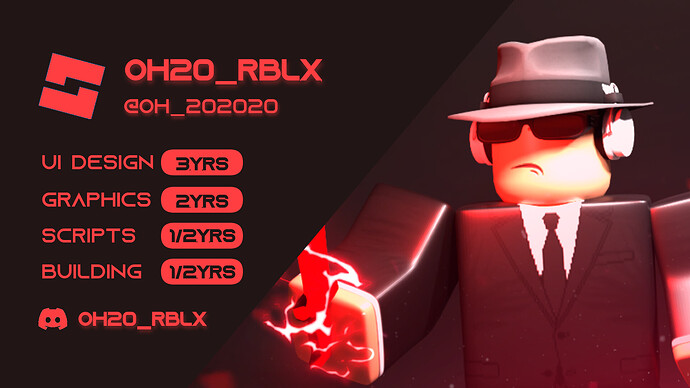 About Me
Hey there! I'm @OH20_rbLX, a Roblox developer who specializes in a lot of things. I live in Canada within the province of Ontario, the most populated province in my country. I started my Roblox developer journey back in mid-2019. Fun fact, this was just a month before the pandemic arrived was introduced to my country.
NOTE: Showcases are listed below "Softwares"
Experience
I have learned a variety of development skills and continue to do so, step-by-step. Here are some of the skills that I'm best at doing;
UI/UX Designing - This has been my main passion from the very start and is what kept me motivated to learn new skills, new techniques, and push myself to learn more. Bountiful showcases are listed further below this post.

Scripting - Although I am still well on my way to becoming an advanced scripter, this basics of scripting was the literal founder of my basic skills, like the stepping stone to development on various softwares. I currently script Lua, Python, and very little JavaScript and C++.

Building - This skill is certainly a valued skill of mine as it allows me to express my creativity with ease, and I'm always trying to get better at planning my builds and how to make them. I love modern style builds and less traditional builds.

GFX Designing - I discovered this skill throughout my Roblox developer life. It came to me naturally, and I easily adapted to it suprisingly quickly and started numerous commissions. It is indeed a very important skill to me as it will also help me towards animating and mesh designing.
Web Designing - Whenever I visit a website, the first thing that comes to mind is style and how it might have been made. Ever since, I have been learning web designing though courses on various external platforms, which has also led me to understanding HTML, CSS, and limited JavaScript.
Softwares
Throughout my overall development life, even now, I am always trying to make the best use of any software that I have. I rely on these softwares mainly to bring my ideas to life, including;
Visual Studio Code
Roblox Studio
Blender
Photoshop
GIMP
… and, my main ultimate source for learning, Udemy! Its endless quality-content courses allow me to explore the giant field of web development and understand more about computer languages and computer science.
Showcase
Well, what's a portfolio without a showcase!? See them all below!
User Interfaces

Please see the examples on my UI/UX portfolio page here!
Programming

I have some past work of programming, and I even made a game from it in 2020!

Functional calculator program images (Python)




---

Additionally, I decided to put my coding skills to the test a few years ago by creating a game on the Scratch platform, which you can play and see the inside code here!
GFX Designs

Please see the examples on my GFX portfolio here!
NOTE: Over the coming months, I will be compiling key elements of my work and uploading them here.

Requested Payment
I currently only accept Robux or Roblox Gift Cards as payment methods. Robux can be paid through a shirt, gamepass, or group funds, however if you choose the last option I will need to see proof of funds.
User Interfaces
Mini UI Package (5-10 frames) – 340 R$ - 800 R$
Regular UI Package (10-15 frames) – 800 R$ - 1800 R$
Supreme UI Package (15-25 frames) – 1800 R$ - 4200 R$
Full Game UI Package – 4200 R$ - 14,000 R$ (varies)
Contact me for larger orders (25+ frames) and we will attempt to work something out.
Open Commissions
GFX Designing Commission
UI/UX Designing Commission
---
Contact
Discord: OH20_rbLX
Cookie Forums: @OH20_rbLX
Roblox DevForum: OH_202020
Last Updated: 8/13/2023 - 1:02 PM EDT
---
Changelog
Uploaded a new, pleasing banner
Slight update in formatting
Removed tag from Discord contact