Hey everyone!
Recently I've decided to check my Roblox account inbox and I found this strange message from the official Roblox account, regarding changes to the redemption of Robux Gift Cards.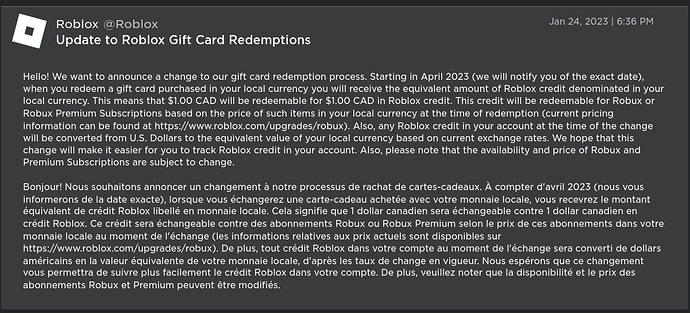 As you can see, in this message, Roblox states, "Starting in April 2023, when you redeem a gift card purchased in your local currency you will recieve the equivalent amount of Roblox credit denominated in your local currency."
Personally, I've never really noticed any visual difference through Roblox Gift Card redemptions. A $15 Gift Card is still a $15 Gift Card.
However, I'm assuming this is some change in the background. I'm guessing this means $100 USD was equivalent to some amount of Robux whereas it might have actually been a lower amount in CAD (Canadian Currency), perhaps due to the conversions from USD to CAD. (It's not only these two currencies; this change may affect all currencies … pounds, dinars, rupees, krona, etc).
With that said, I ask you … do you believe this going to be a benifitial or damaging change to Roblox Gift Cards? Let me know below!