Roblox-Weather
Have your roblox game match real life weather, this is a super cool system made by @cookie to emulate the current real life weather in roblox.
Features
Rain (Realistic Simulation)
Water Drops (Realistic Simulation, simulates how hard it would be raining in real life)
Temperature Simulation (Realistic Simulation)
Supports many data units: "UK (Celsius), US (Fahrenheit), Metric"
Precise tracking - Put a simple location (London) or get very specific!
Screenshots
Here are some images of me using the system: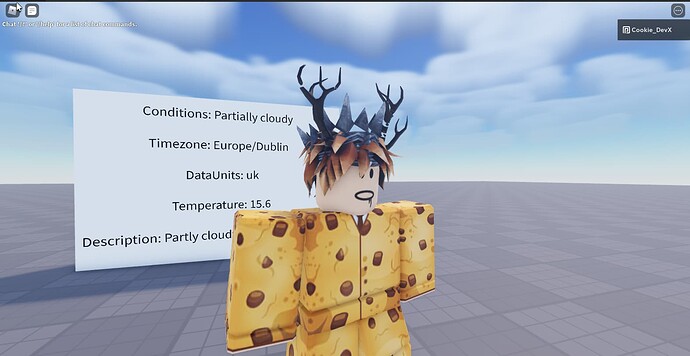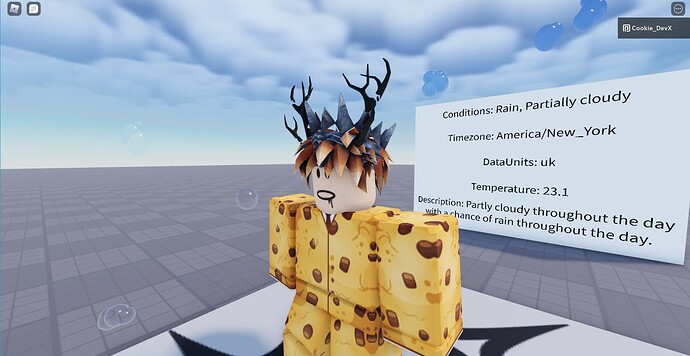 Contributing
You may contribute to our github repository:
Keep in mind modules are not included in the github source code!
Downloading
v1.0.1beta
---
Our first initial revision after initial release: RobloxLiveWeatherV1.0.1.rbxl (50.5 KB)
Release Date: 2022-08-25T23:00:00Z
v1.0.0beta
---
Our first initial release: RobloxLiveWeather.rbxl (52.6 KB)
Release Date: 2022-08-09T23:00:00Z
Docs
Follow our docs on guidance to set up: Realtime Roblox Weather V1.0 - Docs
Suggestions
Please leave suggestions down below!
Disclaimer
Keep in mind this model is not designed for player enjoyment but for realism!
License
Please make sure you agree to our license.
The person who associated a work with this deed has dedicated the work to the public domain by waiving all of his or her rights to the work worldwide under copyright law, including all related and neighbouring rights, to the extent allowed by law. You can copy, modify, distribute and perform the work, even for commercial purposes, all without asking permission. See Other Information below.

No attribution is required
This isn't legal advice, please refer to the full text.
---
I hope you enjoy using the system!
Roblox-Weather-RealTime by Cookiehax is marked with CC0 1.0